Stormwater Management Model (SWMM) Information for watershed water quality, hydrology and hydraulics modelers (Note this Blog is not associated with the EPA). You will find Blog Posts and Twitter Embeds on the Subjects of SWMM5, InfoSWMM, InfoSewer, ICM SWMM Networks, SWMM4 and SWMM in general.
Tuesday, October 8, 2013
ALCOSAN Wet Weather Plan Link
A link to the ALCOSAN Wet Weather Plan for Allegheny Country, Pennsylvania
http://www.alcosan.org/Portals/0/Wet%20Weather%20Plan/Section%204.0%20thru%204.4.pdf
1/ There is also an ArcEngine version of InfoSWMM call InfoSWMM SA. I will SA to show some hidden features of the 1D St Venant solution f...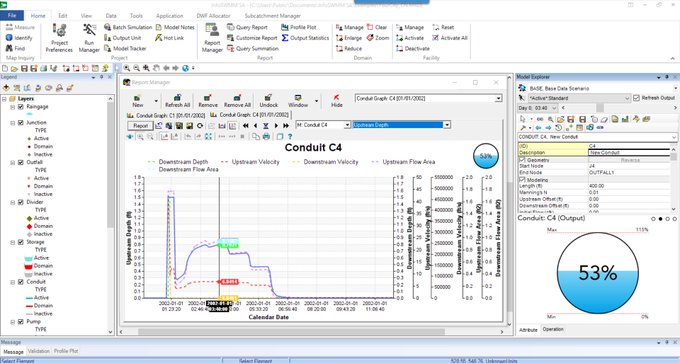 Soffit Level ( pipe technology )   The top point of the inside open section of a pipe or box conduit. The  soffit  is the ...

Engine Error Number Description ERROR 101: memory allocation error.                                                 ...

Note: Orifice and Weir Flow Computations The orifice flow calculation proceeds as follows: 1. Initially and whenever the setting (i.e...